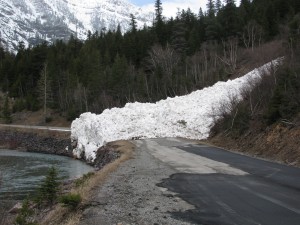 Spring must be here, because crews have started plowing Go-to-the-Sun Road.   The 2009-2010 winter has seen average snowfall for the Glacier Park area, but there is always the chance for a heavy spring storm.  Tentatively, the road is set to open June 18th.
Going-to-the-Sun Road is one of the most difficult roads on the continent to snowplow.  According to Wikipedia:
The road is one of the most difficult roads in North America to snowplow in the spring. Up to 80 feet (25 m) of snow can lie on top of Logan Pass, and more just east of the pass where the deepest snowfield has long been referred to as Big Drift. The road takes about ten weeks to plow, even with equipment that can move 4000 tons of snow in an hour. The snowplow crew can clear as little as 500 feet (150 m) of the road per day. On the east side of the continental divide, there are few guardrails due to heavy snows and the resultant late winter avalanches that have repeatedly destroyed every protective barrier ever constructed. The road is generally open from early June to mid October.
The National Parks Service has put up a cool status page with a map of the current plow locations.  Where are the Plows?