When we first started talking about the Glacier Bluray project, I wanted to do it as "on location" as possible. That meant camping in park with just a tent, the camera, and a laptop. But we realized that it's winter time right now and trying to do any meaningful work on a laptop when it's 10 degrees in the tent is near impossible. Instead, I opted for a hotel on the edge of the park. It's a win-win scenario; I can hike into the park during the day and edit footage in the evening in the warmth of a hotel room.
Normally all of the hotels are closed in winter because the park is officially closed. I called all of the hotels on both the east side and the west side of park looking for some place to stay for the next month. Joe and Mary came to our rescue. They run the Glacier Highland Motel in West Glacier.  Joe graciously offered to open the motel just for us.  I can't thank him enough.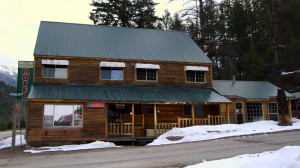 And here is the modest editing station.  I've got my Mac, a pair of 24″ monitors and the 10 terabyte hard drive array.